Have a look below for feedback from children, young people, adults, teachers, employers, youth support workers, charity workers and more.
If you would like to make a comment for this page, please get in touch directly on info@sarahjanemason.com. Thanks go out to everybody who has offered feedback comments, completed evaluation sheets or taken part in reflective interviews.
There are more comments, reactions and feedback being added all the time so be sure to check back soon!
"It was very good all round, the pupils learnt a lot and enjoyed the workshops, giving good feedback to myself and Sarah- Jane. They've even asked if she can come back next week so they have definitely had a good time."
Art & Design Teacher, Lincs.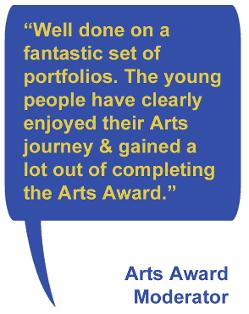 "Sarah-Jane, you have a lovely manner with the children and your sessions were really engaging and fun. Thank you!"
Primary Art Coordinator, Kirklees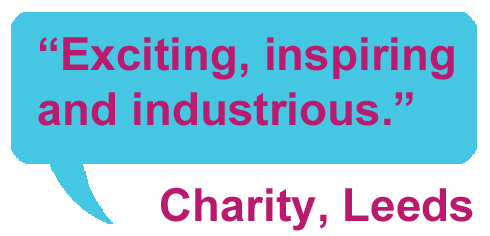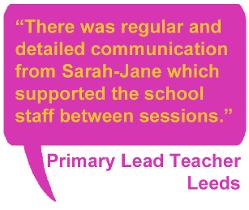 "It was great value for money, especially as it included new and specialist materials. Planning and preparation was outstanding and the project was tailored to my pupils needs. Some very disaffected boys engaged with the project and it has made the difference between a failing and passing grade on their BTEC so the impact on the pupils has been massive."
Head of Faculty, Bradford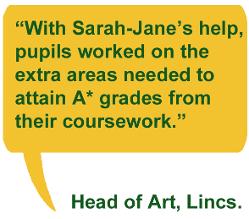 "The key factor that made the project a success was Sarah-Jane Mason. Her approach, professionalism, level of skill, how well planned the sessions were, the organisation of the project and her communication with both staff and children were all excellent. "
Teaching Assistant, Leeds
"Yes the session was a HUGE success. It was very practical and the children were all engaged. They enjoyed learning and applying new skills and it was taught to them in a fun and stimulating way."
Primary school teacher, Kirklees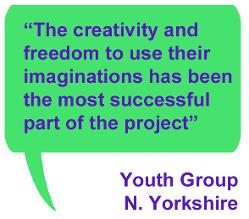 "It was very good for the staff (especially the newer staff) to work with Sarah-Jane. The sessions were very much about the process, rather than the outcome and this was good for the staff to see."
SILC Teacher, Leeds